Okay, so if you read my first post, you know that I'm working on a huge GA project. What you don't know is what it's about and why I'm doing it. Well, I'm about to tell you, so get comfortable because this might take a while...
If you don't know much about Kirby, then I should first enlighten you about a few events in his early history. The third game in this series is Kirby's Dreamland 2, and in this platforming game, you find an antagonist that will haunt Kirby later on.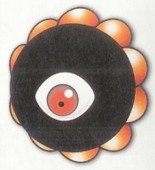 This is Dark Matter. At first, it seems that the only reason it ever appeared was to cause trouble in Dream Land, but in a later game, Kirby's Dreamland 3, something else is revealed, but only if you are an expert in completing games.
For a while, in most games after Kirby's Adventure, there was a common pattern for final bosses. There were really two final bosses: one fake, and the other only unlocked when all items to build a final weapon are found. In Dreamland 2, the fake final boss was a possessed King Dedede, but if all the Rainbow Drops are collected, the Rainbow Sword (ironic because the games then were still in black and white) is formed and Kirby fights the true boss of Dark Matter, first in a swordsman form, and then in a blob like the picture above.
In Dreamland 3, if all the Heart Stars are collected, the Love-Love Stick appears after defeating possessed Dedede again, and in the Hyper Zone, he fights Dark Matter, again in blob form. This time, however, something unexpected occurs-a new boss appears out of nowhere. This boss has been identified as the mind behind the Dark Matter and is also one of the most gruesome characters to ever appear in the Kirby series.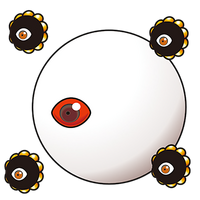 This is Zero. His purpose is unknown in this instance, but it's definate that he controlls Dark Matter. His attacks range from shooting blood from slits in his body to charging mini Dark Matters at Kirby. Once the main body is defeated, this happens: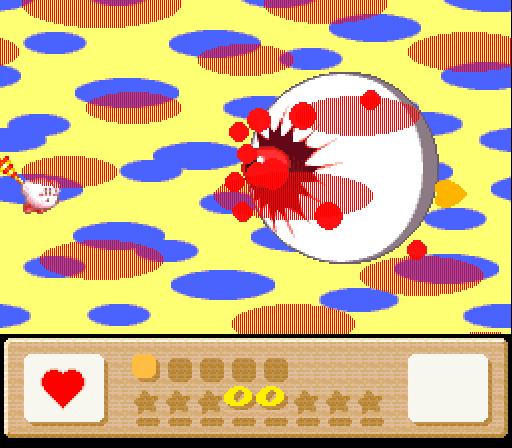 His eye rips from the body and starts charging at Kirby, though it is very easy to defeat with it's small health bar. When the eye is defeated, it spins out of controll and shoots blood everywhere. That is supposedly the end...until Kirby 64 came out.
In Kirby 64: The Crystal Shards, the entire galaxy is now being affected by Dark Matter, and the fairy planet of Ripple Star is being engulfed by the dark energy. The fake final boss in this is Miracle Matter, which looks like Zero but has a multi-faced die shape and an eye on each face. If Kirby manages to collect all of the shards, the final area, Dark Star, is found after the fully united crystal releases the queen of Ripple Star from dark possession. Then, Kirby and his fairy friend, Ribbon, go into the darkness and use a Shard Gun as the final weapon against the true final boss.
This is Zero Two. He is a reincarnated version that resembles a fallen angel. This time, his objective seems clear. Since he can't feel happiness, nobody should. His battle theme in comparison to his original form's theme is much more memorable in many Kirby fans' opinoins. Here's the links for comparison:
Zero Theme
,
Zero Two Theme
,
Zero And Zero Two Mix
. After Zero Two is destroyed, he and Dark Matter never make a comeback in any other current Kirby games. Well...I want to change that!
That's right. This project is about the comeback of Zero as Zero Three. The title of this project is Kirby: Zero Empathy, and you can find a sporecast of the same title with all creations related. I have managed to form a small team of contributers to aid me in this quest. They are: Dargian920, Futamidogep, heathermixter1, LightningThief21, PestyBen, and Stchurdak. So far, I have made several "cutscenes", the Zero Three battle, and the first galaxy adventure (which camelfox found). So far, so good, but I don't have much time left before school starts, and any help I can get is most apperciated, whether it be making enemies or other advenutures, or just spreading the word! If this is to be noticed by Nintendo (which might be doubtful in a normal situation) or just in general, I'll make sure everyone involved gets credit. Thanks for tuning in!