Plot: Ever since the Dark Leech went to war the Grox the entire galaxy seems to be moved to to attack them eons-old menace, so, will your race join the Dark Leech, or are you cowards?
there are two things you need to fill out first Empire Form
Empire : Archetype
and the character form for the character you'll be
Username:
Character Name:
Species:
Age:
Appearance:
Gender:
Weapons:
Backstory:
Rules!!!
1. no godmoding
2. only TWO named characters
3. (OCC goes here)
4. NO breaking the foruth wall
5. Naboo9 can remove you from the RP is you break the rules
6. HAVE FUN!!!
Empires Joined:
Dark Leech : Warrior
Klik : Scientist
Haitin : Warrior
Zeptika : Unknown
Tamanen : Scientist
Gradoles : Zealot
Shadowmane : Unknown
Flying Alphagator : Bard
Ardent : economist
Characters
Username:Naboo9
Character Name: Naboo9
Species:Dark Leech
Age: 21 dark leech years ( about 21 mil human years)
Appearance: http://www.spore.com/sporepedia#qry=usr-Naboo9|500218976299:sast-500663320898
Gender:male
Weapons: Plasma Desert Eagle, Volt Sword, Glove Claws
Backstory:A high ranking Dark Leech and the first captain of the Dark Leech with a good reason to hate the Grox...
Username: mrbean5317
Character Name: Kilikan
Species: Klik
The Klik Are Now Sentient, And Now More Intelligent.
They Have Sent Out Ships To Help Them Find Out More About The Universe.
______________________________________
Age: 32 Years old (Earth-Timezone)
Appearance:
Gender: Male
Empire: Scientist
Weapons: Electro Blade, Clawed Glove
Backstory:
Kilikan was a very successful Engineering Scientist and was also a very unheard of Captain.
His most greatest creation he have ever created which has changed the face of technology, was the Grox Morphing Device, allowing you to transform into a Grox.
He was called in for a Mission known as Code: Galactic Doom
He was brought on the mission to help with some "Grox" Problems involving the use of his Mechanism.
Later on the mission, he was also brought into the next step of the mission, help out an unknown captain (known as the player) infiltrate the Grox base, Gather Information, and destroy the T0 Blaster.
Near the end of the mission, he was thought to be "Killed" by a Grox Test Experiment creature that had escaped from the labs.
Username: mrbean5317
Character Name: Septra
Species: Zeptika
Age: 29 (Earth Years)
Appearance:
Gender: Female
Weapons: None
Backstory:
An alien from the Zeptika Race.
A character in Galactic Doom 2: Revenge Of The Grox. Her Role in the series will be as a Medical officer on board on the ship to aid the character whenever injured.
She will also play a role in the new series, "The Forgotten Lands"
Username: AgentAG (removed)
Character Name: Seh'n Onhai
Species: Haitin
Age: 27 earth years
Appearance:
Gender: Male
Weapons: Clawed glove and an AG-78 plasma pistol
Backstory: Seh'n Onhai was a top mercenary who completed lots of missions for empires all over the galaxy until one day he died in an accident involving several infected spoffits. However a couple of years later he was brought back to life by cloning him with new AGTech technology. Since then he has been serving the Haitin empirev
Username: Naboo9
Character Name: Nai'vares
Species: Gradoles
Age: 31 Gradoles years
Appearance: http://www.spore.com/sporepedia#qry=usr-Naboo9|500218976299%3Asast-500663688297
Gender: male
Weapons: Tazer Blade, Energy Gun
Backstory: The arch bishop of the Gradoles Empire, his realigon itself tells him to fight the grox
Username:FrostieBuniou
Character Name: Frostie (Previously known as Fravini)
Species: Buniou
Age: 19 (1,900,000 human years)
Appearance:
Gender: Female
Backstory:
Frostie is the daughter of the Buniou leader and she was hardly understood. Planet Patora (Buniou Planet) was captured by the Grox and they captured Frostie and destroyed her planet. She used to be known as Fravini, a Groxist until she was back to er original self, still holding her memories.
Weapons: Plasma gun, electric sword.[/quote]
Character:
Username:Terwynd (removed)
Character Name: Drainkin
Species: Shadowmane
Age:Unknown, but he claims to be over 1800 Earth millenniums old.
Appearance: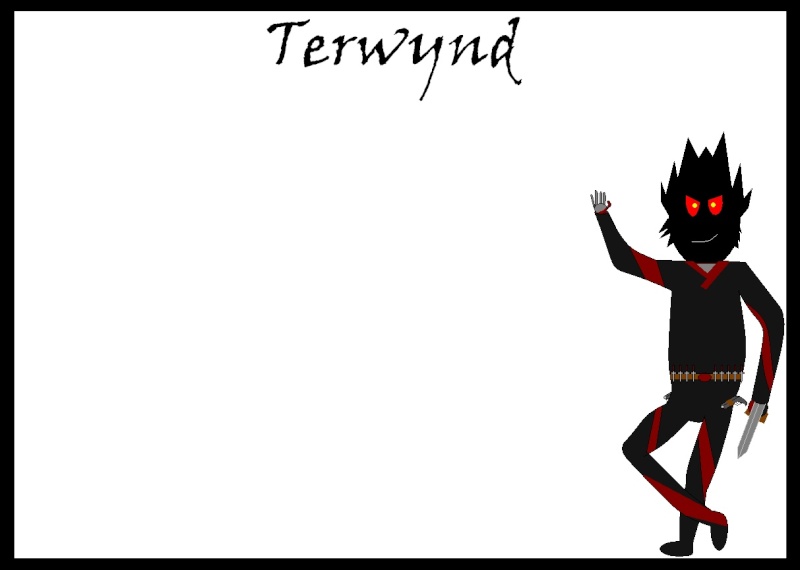 (Couldn't get a creation picture of him without posting a super-long link.)
Gender:Male
Weapons: Dual Matter Converter Pistols, Dual Steel-coated Jakonite Katars (Wrist Blades), Various Knifes of all kinds, Tier 5 Laser Sniper rifle, Gas grenades, Smog pellets, and throwing knifes.
Backstory: As the last known surviving Shadowmane, Drainkin was traumatized as a kid when he witnessed his planet destroyed by a Grox Planet Buster. This caused him to become mentally unstable, as the only reason he is not insane is his way of channeling his rage; by becoming an assassin. Ever since, he has become a reputable contract killer, though he takes missions where he kills the Grox for free. a minor note has been found pertaining to him; he does not age due to his vast knowledge of shadow "magic", so much so that many believe him to be the son of Czin, the Deity of Death...
Username: Blixafish
Character Name: Bubble
Species: Flying Alphagator
Age: "It is impolite and not fun to ask a Captain his age" - Bubble
Appearance: http://www.spore.com/sporepedia#qry=ftr-creature|adventure_creature%3Ausr-blixafish|2263640534%3Asast-500599385893
Gender: Male
Weapons: Poison bite, Summon Swarm, Freeze, Soothing Song
Backstory: I follow the Philosophy of fun, and Chess! Oh, and Pool, and... oh sorry my Fuzzy Friend. What? I said you were Fuzzy! Not Cheesy! Why are you offended? Anyway just to let you know were only here because are allies are here, we don't care about the Grox as long as they don't spoil our fun, which they have by taking all our Allies away! I mean, how are we going to play Chess without a Fuzzy Ally to play it with?
Username: Terwynd (removed
Character Name: Ardent
Species: Vollian
Age: 23 earth years
Appearance:
Gender: Male
Weapons: Pistol, 2 energy Katars
Backstory: Lieutenant Ardent Ghostwalker has been involved with many military experiments, and has a long record of flight experience. His home planet, Vollius, is a booming economist planet, spanning 33 stars and 42 planets.
Character Name: Triex
Species: Destroya GEN3
Age: 28
Appearance:
Gender: Male
Weapons: Hades Rifle, Blaze Claw
Backstory: Triex, comes from a species of Warriors. He is the highest ranking General of the Destroya Republic Army, and Admiral of
The Titan
. He has
a wife who comes from a species called Diat. She was a former bounty hunter. Her name is Diatria
Username:
Delta317
Character Name:
Ink
Species:
Mallium
Age:
Uncertain: psych eval suggests a youthful mind tempered by military training.
Appearance:
Gender:
Male
Weapons:
A variety of blades: some powered, others just really,
really
sharp. Also armed with a compact pistol.
Backstory:
A freelance infiltrator trained from an early age by the infamous Silent Temple, an organisation specialising in espionage and subterfuge. Ink believes in trusting to his keen senses and reflexes over any real gadgetry aside from his visor- known to nullify much technology around him- and favours sneak-attacks and close-combat over ranged engagement.
Despite this, he remains one of the finest fighter-pilots the Temple has ever trained, and flies a small FTL-capable craft known as the 'Redemption'. Ink's goals with regard to the current conflict are unknown, it is possible he is acting alone.
Username: Blixafish
Character Name: Flower
Species: Flying Alphagator
Age: Young
Appearance: Just like Bubble, but without any gadgets.
Gender: Male
Weapons: Teeth, claws and Soothing Song
Backstory: Not much is known about Flower's early life, unlike his Captain, Flower he was not born on the home planet, instead on a T1 planet. He went to the same school as Bubble, and they almost immediately became friends. Bubble is just like a SUPER hyped up version of Flower.
Username
: Nagho
Character Name
: ACU-X-1 (Advanced Command Unit Experimental 1)
Species
: ACU-Class Robotic Unit
Age
: 2 Weeks (As of Entrance into RP)
Appearance
:
Gender
: N/A
Weapons
: Extremely powerful physical capabilities due to robotic origin, and is armed with a Rapid-Firing Pulse Rifle.
Backstory
:
An experimental Grox program known as ACUD (Advanced Command Unit Development) is the origin of ACU-X-1. It is an experimental being created to act as a relay unit to allow instant transmission of orders, and to generally act as a communication and decision-making relay for large amounts of Grox Overlords acting in order to act in an organized fashion. However, to accomplish such a feat, the Grox had to add a self-aware component to the unit in order to have sufficient processing power to interpret and transmit all the data passing through it.
After examining its surroundings and discovering the nature of its creation and the purpose it was intended for, ACU-X-1 broke from the lab it was created in, stealing an RFP Rifle and Grox shuttle and setting off into the void of space, hoping for refuge.
Username
: Nagho
Character Name
: Grand Admiral Palanosh
Species
: Tegotian
Age
: 112 Years
Appearance
:
Gender
: Male
Weapons
: A Personal Defense Pistol (And the Tegotian Imperial Fleet)
Backstory
:
Grand Admiral Palanosh is the supreme commander of the entire Tegotian fleet. He has proven himself numerous times in combat and is a deadly foe to fight against on the battlefield. Although previously he only had command of the 4th Fleet, he has since risen in rank and is the most respected military commander throughout the empire.
He uses the only Annihilator-Class vessel in the empire as his flagship. Although it has a small (but devastating) weakness, the admiral is having the most prominent engineering minds in the empire work on sealing it.
Username:
Lonestar4 (Removed)
Character Name:
Sargent Lyeria
Species:
Zaretians
Age:
Ten Zaretian Years (100 Earth Years)
Appearance:
Gender:
Male
Weapons:
A Zaretian Meat Cleaver and a edited Double Barreled Zaretian Shotgun (And the squad of Soldiers he leads)
Backstory:
During the middle of the age King Moscannin the Zaretian empire were being hit hard by the grox, planets were being ravaged, civilians slaughted and moral especially low. The mighty Zaretian empire was on the verge of extermination by the Grox and so they were forced to join the many empires that were fighting the grox.
And during this fight Sargent Lyeria rose to fame, by setting off a nuke while in battle with 2 broken legs. Lyeria has a squad of 6 other Zaretians and is oftenly sent on missions against the grox...
Username:
RazorKnight
Character Name:
Razorator_O
Species:
Transfarnia
Age:
134 Years old. Appearance is 32 years old.
Appearance:
Gender:
Male
Weapons:
EXT-25 Titanclaw, One of the 10 most rare weapons in the galaxy.
Backstory:
Razorator_O was a victorious space captain in his homeplanet. History goes that the Galaxy of Nestax was tired of the Grox slaughtering other races and empires while the others stood and watched without any justice being paid. Later, the first Galactic Senate was formed by the most powerful and alpha races of Nestax. These races were:
1-Transfarnia
2- Gionrx
3- Urav
4- Yrask
5- Herkul
...
The leaders of the Galactic Senate later made a order that would stop the Grox and thats where we come back to Razorator_O... Razorator_O was asked by the Order of the Archway if he could join. Razorator_O said yes and he was part of the order. Everything was going fine until the Grox was angry at The Galactic Senate for creating a strike force that the Grox didn't even know about. Those were dark times, numerous murders and killings... The Order of the Archway started the first war called The War of the Archway and fought back without vengance. This became more then a fight, it was suicidal. The economies of many empires fell because of the war. Less empires started to exist during the war... then the final battle came... The Battle of Uqurio.
In this battle, all of The Order of the Archway came and fought the Grox. It was bloody, never ending chaos and carnage. The leader of the order was killed, Razorator was out numbered and slaugtered limb by limb. So did the other members of the order. They hoped that they would win a be victorious over evil like at the Holo-Movies.Bt they were wrong... they lost the battle and the war.
But, 95 years later, Razorator_O was reborn by a mysterious spirit... Then he found out that years ago, new races had been born at Nestax called Destroya, Sapphirex, Biguns, Brainthunder and Slickslide. They had became alphas of the Galactic Senate with the original empires and stoped the Grox with The First Galactic War. The Grox was gone. Razorator_O has sworn to stop the Grox at any galaxy that is needed and he travels to a galaxy, that has already started war. He must help the others and stop the Grox at this galaxy too and bring peace like at Nestax.
Character Name: Phelina
Species: Phlinia
Age: 20 (Earth years)
Appearance:
Gender: Female
Weapons: Electro claw, Plasma gun (To be unlocked)
Backstory: In war and hatred of the Grox, Phelina decides that her empire needs more allies to destroy the Grox empire. She appears to be very pretty.
Enemies
Grox (made by FrostySnow)
Common
Tronaox
Cranoex
Cronoxer
Grokadile
Cratouse
Poison Grox
Uncommon
sumogroxler
Dragox
Buff grox
Canox
Single
Grox Overlord
Amouridan (by TheGreenMrBean)
The Amouridan ( inside Mecha )
The Amouridan
Trailers (Made by FrostieSnow)
Evil
Good